Empowering your financial future with insights and resources.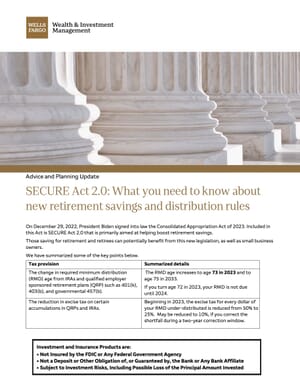 February 2023
On December 29, 2022, President Biden signed into law the Consolidated Appropriation Act of 2023. Included in this Act is SECURE Act 2.0 that is primarily aimed at helping boost retirement savings. Those saving for retirement and retirees can potentially benefit from this new legislation, as well as small business owners.
January 2022
Giving used to be as simple as writing a check or dropping off old clothes at a charitable organization. But this type of giving, although appropriate for some, simply does not meet the tax-saving or estate-planning needs of many.
December 2022
It's easy to understand why elderly individuals are targets for financial abuse. They may have significant assets or equity in their homes and usually have a regular source of income such as Social Security or a pension. They also may be especially vulnerable due to isolation, cognitive decline, physical disability, or other health problems.